What could be better than going to see a movie in a theater? What about going to see a movie in a totally unexpected place, like a ballpark, a bowling alley, a newspaper press room, or a catacomb deep under the city?
We created our Roving Cinema series to take films outside the four walls of a theater. Sure, as movie nerds, we all love the theater experience, but we also welcome the chance to appreciate some of our favorite films in cool places. In the process, we can crack open a cold beer, catch up with an old friend, and maybe even visit some place we've never been.
OUR NEXT ROVING CINEMA:

Was it Professor Plum in the Library with the Candlestick?
Or Mrs. Peacock in the Ballroom with the Revolver?
You'll find out Thursday, April 20, when we present a special screening of CLUE where you'll play along with the action in this classic Whodunnit?! Upon your arrival, you'll be greeted by our friendly, albeit mysterious, butler who will give you your player card for the evening. With several intermissions, you and your friends will move from the "Ballroom" to the "Library" to the "Study" to the "Conservatory" and finally to the "Great Hall" collecting your weapon and room cards as you make your way through four unique screening room experiences inside the Athenaeum. At the end of the movie, if you're in possession of the winning set of playing cards — player/weapon/room — you'll take home a CLUEY prize package. Check in and seating will begin at 7pm with the screening beginning at 7:30pm. This is an all ages show, and seating will be provided.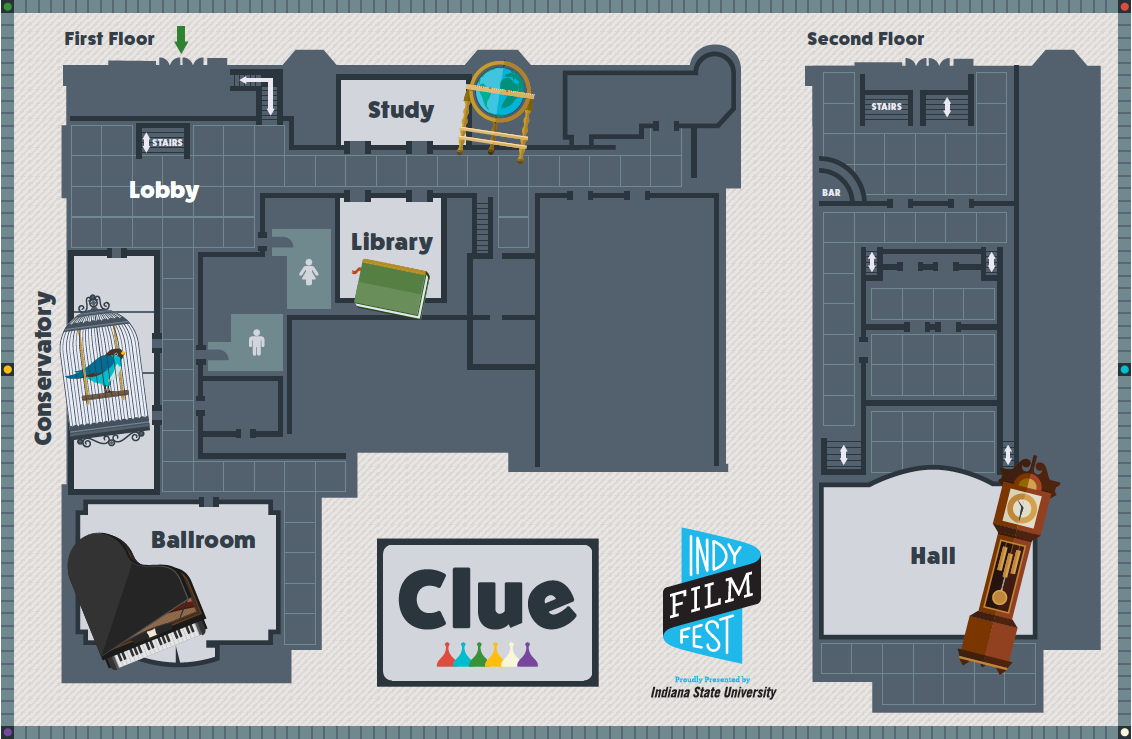 We've already had a lot of fun doing these
Here Are a Few of the Historical Highlights
The Big Lebowski at Jillian's
Big Trouble in Little China at Sun King Brewery
Blair Witch at the Indianapolis Museum of Art's 100 Acres Art Park
Casablanca at the Athenaeum
Field of Dreams at Victory Field
Fight Club in the Catacombs under City Market
The Good, Bad and The Ugly at the Eiteljorg Museum
Gremlins at Sun King Brewery
Hairspray at Talbott Street
Labyrinth in the Catacombs under City Market
Monty Python and the Holy Grail at Sun King Brewery
The Neverending Story at Indy Reads Books
Newsies in The Indy Star Newsroom
This is Spinal Tap at Do317 Lounge
Waiting for Guffman at the Indianapolis Repertory Theater
Strange Brew at Sun King Brewery