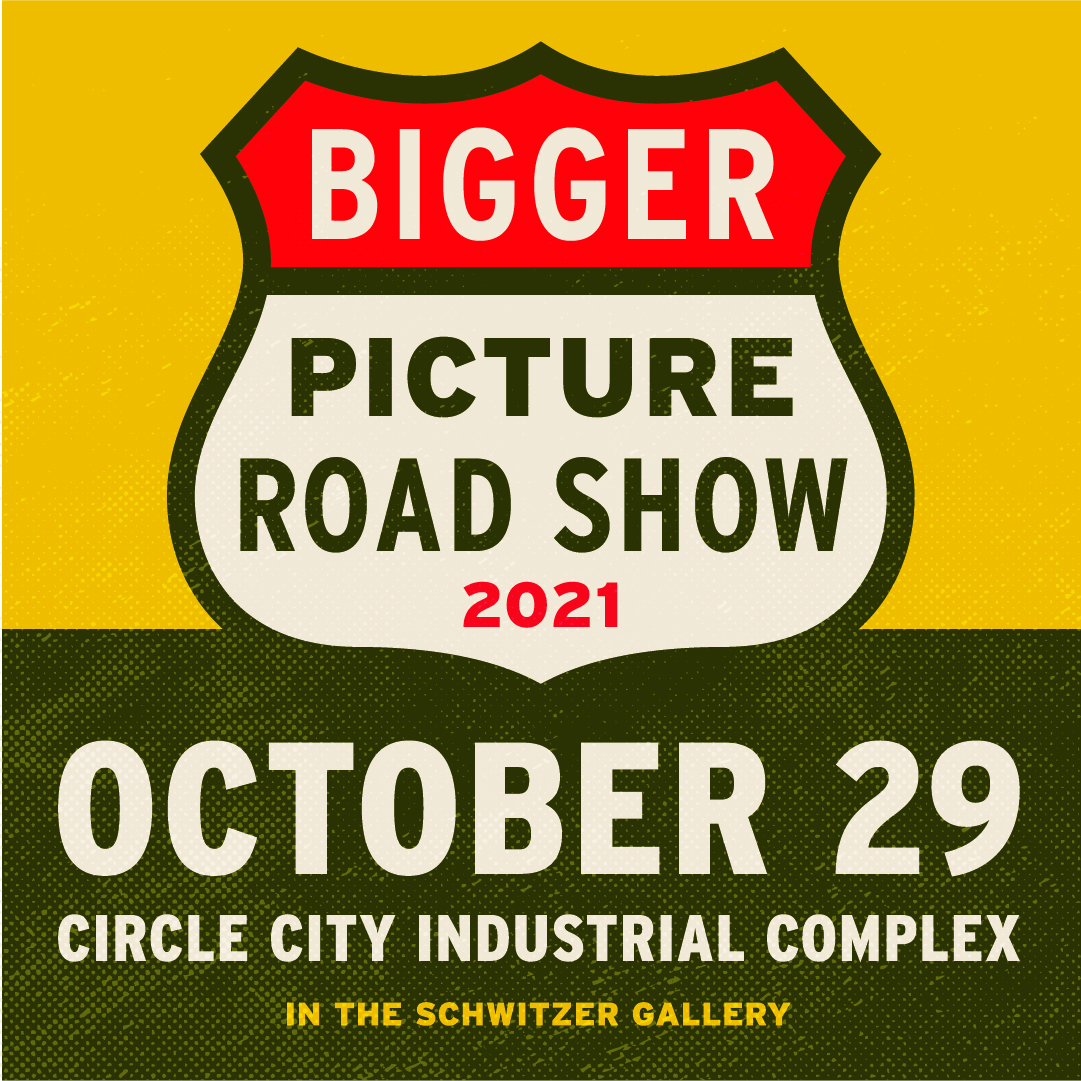 Middle-earth. Emerald City. The Schwitzer Gallery.
We're beyond thrilled to announce that the 2021 BIGGER PICTURE SHOW (yep, it's still a thing!) is, at long last, officially scheduled for Friday, October 29, at the Schwitzer Gallery at the Circle City Industrial Complex.
See important COVID-19 heath and safety protocols below. 
Celebrating the city's best designers in a one-night-only show!
These are just a few iconic locations of film's most memorable moments from the eleventh annual Bigger Picture Show. This year, the Bigger Picture Show is hitting the road and going on location to celebrate all the hard-working location scouts and production designers out there who've helped create some of cinema's finest sets and locales. Don't miss your chance to go home with a movie masterwork at the annual Bigger Picture Road Show and silent auction.
Every year, our friends at Lodge Design help us put together an event celebrating cinema and the design community in Indianapolis. The Bigger Picture Show showcases the city's best designers, with a one-of-a-kind evening featuring a binge-worthy gallery of 100+ re-imagined movie posters. All posters will be sold in a silent auction (with proceeds going to benefit the Indy Film Fest and its mission to create a shared experience around film. We'll have food trucks on hand, as well as adult beverages for those of legal age.
Schwitzer Gallery @ the Circle City Industrial Complex
1125 East Brookside Avenue, Indianapolis, IN 46202
IMPORTANT COVID-19 HEALTHY AND SAFETY INFORMATION
PROOF OF COVID-19 VACCINATION OR NEGATIVE TEST (ADMINISTERED WITHIN 72 HOURS OF THE EVENT) IS REQUIRED FOR ADMISSION TO THIS YEAR'S BIGGER PICTURE SHOW.
Health Check Guidelines:

Guests are required to show EITHER Proof of full COVID-19 Vaccination OR Proof of Negative COVID-19 Test (PCR test within 72 hours or rapid Antigen test within 6 hours)
If you are feeling sick, stay home.
Children Under 12: Unvaccinated guests under 12 years of age will be required to wear a mask while in the venue.
Masks are strongly recommended for all guests while in the venue (except while eating & drinking).
We realize that vaccines, COVID-19, and testing is a hot and polarizing topic right not, but the truth is it shouldn't be. Health and safety should never be controversial. To that end, we will not engage in debating this policy with anyone. We believe it is in the best interest of the health and safety of everyone and are looking forward to seeing you at a safe and fun event where kindness and love can flourish.
Again, we thank you for your support,
Your friends at the Indy Film Fest